The Problem We Address
You've trained your staff, told them the importance of accessibility in the content they produce for your website, and now they have a question. You can send them to the forums, some of which are quite good, or they can ask your in-house expert who will either answer the question or go to the same forums. Meanwhile, staff would like to hit the submit button to upload their website changes and get back to work.
Our Solution
Ready to answer your staff's online accessibility questions, we have highly trained analysts, Trusted Testers certified by the Office of Accessible Systems & Technology, and with a couple years of experience.
Just as applicable, we have an online incidence management system your staff can use to submit their questions, for us to post our answers, and for your managers to see reports about who is asking what type of questions, and how quickly they get answers they can use. An incidence remains open, with follow-on questions and answers, until your staff mark it fully answered.
Our solution is to bring cost-effective answers to your staff so they can get back to work without searching forums and hoping to find the right answer.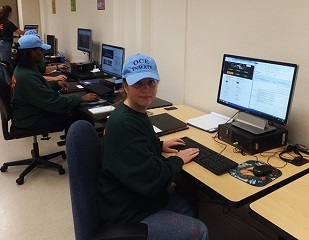 How to Get Started
Use any of our contact options to tell us about the size and distribution of your staff, their accessibility training, and the type of content they will be producing. We will respond with either a per-document or a fixed-price proposal to do it all, but you will also have the option to task us at our affordable $49/hr leveraged even lower by our software tools.
Questions & Answers
Can you provide telephone, online chat, and on-site support?

One of the aspects of using cost-effective prison inmates to provide staff support services is that we must follow certain security regulations. Our proposed incident reporting system complies to this. Establishing a telephone or chat system would require development and negotiations. On-site support visits are not possible.

Given that our program provides a seamless transition from prison work to outside work, we have several trained, certified, and highly motivated analysts on the outside able to provide on-site services.