Cost-effective online accessibility for your disabled visitors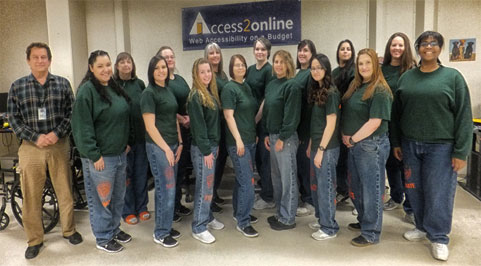 Accessibility Support Services Evaluation Criteria
Below is a table of evaluation criteria to take to vendor presentations and management meetings. Use it to compare vendors as well as in-house services to audit an agency's website for accessibility.
Easy Print PDF
Evaluation Criteria

Vendor
#1

Vendor
#2

In
House

Name of vendor or internal department

Access2online

Your criteria #1:

Your criteria #2:

Experience

Number of years of experience remediating to AB-434?

2

Number of California agencies that have contracted vendor regarding AB-434?

8

Number of experienced accessibility analysts?

21

Part of an agency's response committee to a judicial complaint?

✓

Experienced with WCAG 2.0 and WCAG 2.1?

✓

Are references available?

✓

Capabilities

Trusted Testers certified by the federal Office of Accessible Systems and Technology?

6

Accessible Document Specialists certified by the International Association of Accessibility Professionals?

✓

Works with web redesign team to make in-process mockups accessible?

✓

Experienced selecting pages to audit per WCAG-EM methodology?

✓

Remediates documents such as PDF, MS Word, Powerpoint, Excel, InDesign, ePUB?

✓

Remediates audio, video, multimedia, and maps?

✓

Complies to AB - 434?

✓

Complies to California's Unruh Act?

✓

Complies to Title II of the ADA?

✓

Complies to Section 508 of the Rehabilitation Act?

✓

Structured, objective, written test procedures, VPATs available to be evaluated by your IT staff?

✓

Work samples available?

✓

Capabilities interviews available?

✓

Automation software empowers human analysts?

✓

Services integrate with Monsido, Dinolytics, SiteImprove, etc.?

✓

Audit the private-sector widgets and applications linked or integrated into agency website?

✓

Support

Cloud-based task order management with staff as users?

✓

Besides listing violations, provides remediation suggestions matched to web designers workflow?

✓

Unlimited debriefings, violation explanations, and remediation guidance?

✓

Help develop a Remediation Plan with your staff?

✓

Provides staff training materials to insure continued accessibility?

✓

Onsite and virtual training?

✓

Provides an accessibility seal of compliance and a Letter of Reasonable Accessibility?

✓

WordPress plugin supporting staff production of accessible web pages?

✓

Real-time accessibility support available for your disabled visitors?

✓

Percent of work done in USA?

100%

Unconditional, perpetual accessibility warranty?

✓

Cost

CMAS certified vendor?

#3-19-70-3636A

Published hourly rate?

$49

Their fixed-price proposal price option?

$

Their fixed-price delivery time?

_____ weeks
How We Audit Websites for Accessibility
Why We Engage Prison Inmates
10/16/21 - Oregon Correctional Enterprises (OCE) announced the successful work program for incarcerated women at Coffee Creek Correctional Facility (CCCF).
06/29/21 - Access2online has been selected to be PDFix's official North American value-added reseller. PDFix is the world's leading software tool to pre-process PDFs to become accessible.
06/27/21 - Following our mission to make online content accessible, Access2online now makes videos accessible with closed captions, transcripts, and audio descriptions.
04/27/21 - With 2020 a rather profitable year, Access2online decided to invest those profits and all profits to come helping inmates and parolees to earn a seat at our nation's digital table.